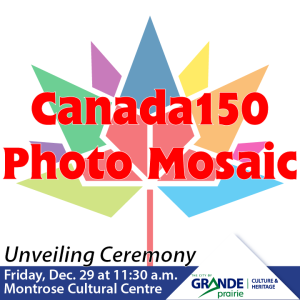 Media Release
December 18, 2017
Community Photo Mosaic Celebrates Canada's 150th
Commemorative Canada 150 photo mosaic to be unveiled on Friday, Dec 29 at 11:30 a.m. in the Montrose Cultural Centre.
This initiative is made possible by the Community Fund for Canada's 150th; a collaboration between Community Foundation of Northwestern Alberta, the Government of Canada, and extraordinary leaders from coast to coast to coast.
"The Canada 150 Commemorative photo mosaic will bring the excitement and pride surrounding Canada's 150th into a local work of art that will be permanently and prominently displayed in our community, and accessible to all," says Community
Foundation of Northwestern Alberta CEO Tracey Vavrek. "Integrating elements of diversity, inclusiveness, and reconciliation into arts and cultural projects is a powerful step to improve our shared sense of belonging."
The installation is a partnership between the City of Grande Prairie's Canada 150 Committee, chaired by former councillor Helen Rice, Community Foundation of Northwestern Alberta, the Art Gallery of Grande and the Grande Prairie Aboriginal
Circle of Services. "Your Community Foundation is proud to be a part of the collaborative effort to bring this wonderful photo mosaic to our community."
The Mosaic is a community legacy piece to celebrate the Sesquicentennial of Canada for years to come. "We looked at different monuments and clock options but the Photo Mosaic was chosen as an inclusive and interactive way to recognize Canada's 150th ," says Robin White with the City of Grande Prairie.
Photos taken at the City of Grande Prairie's Canada 150 enhanced events are incorporated into the art work, creating a unique, local piece. The "Big 5" Canada 150 events in 2017 were Family Day (Monday, Feb 20), Municipal Government Day
(Wednesday, June 28), Canada Day (Saturday, July 1), Heritage Day (Monday, Aug. 7) and Alberta Culture Days (Friday, Sept 29 through Sunday, Oct 1, 2017).
Canadian Artist Robbie Craig's painting, The Subarctic Bear, is the image chosen for the mosaic in consultation with the Art Gallery or Grande Prairie and the Grande Prairie Aboriginal Circle of Services. The bear has a connection to two of the four Canada 150 themes: Diversity and Inclusion; and Reconciliation with Indigenous peoples.
About the Artist
The untouched and rugged landscape of Canada's north inspires Robbie Craig's artwork. Originally, from Barrie, Ontario, Robbie moved to the North-west Territories in his early 20s to work as a Principal and K-3 teacher at Alexis Arrowmaker School in Weweet'I.
He instantly fell in love with his northern home, drawn to the rugged landscape, tundra, and crooked "Seuss-like" trees. This beauty of the North inspired Robbie to reconnect with his creative side and passion for art.
Visit www.rcraig.org or search Robbie Craig's Northern Projects on Facebook for more information.
Community Foundation
Established in 1996, the Community Foundation of Northwestern Alberta is a leading not-for- profit and registered charity working to build healthy and resilient communities in our region. Community foundations contribute time, leadership, and financial support to local initiatives, helping people give back where our communities need it most. With an intimate knowledge of local priorities, the Community Foundation of Northwestern Alberta champions what matters most by directing grants, expertise, leadership, and other support to the projects and programs that support the needs of our communities.
-30-
Media enquiries may be directed to:
Richelle Richardson
Administrative Supervisor
City of Grande Prairie, Culture & Heritage
Phone: 780-830- 7083
rrichardson@cityofgp.com
Tracey Vavrek, CEO
Community Foundation of Northwestern
Alberta
Phone: 780-538- 2820
Cell: 780-814- 1526
tracey@buildingtomorrowtoday.com
buildingtomorrowtoday.com